10-17-2019, 3:03pm
---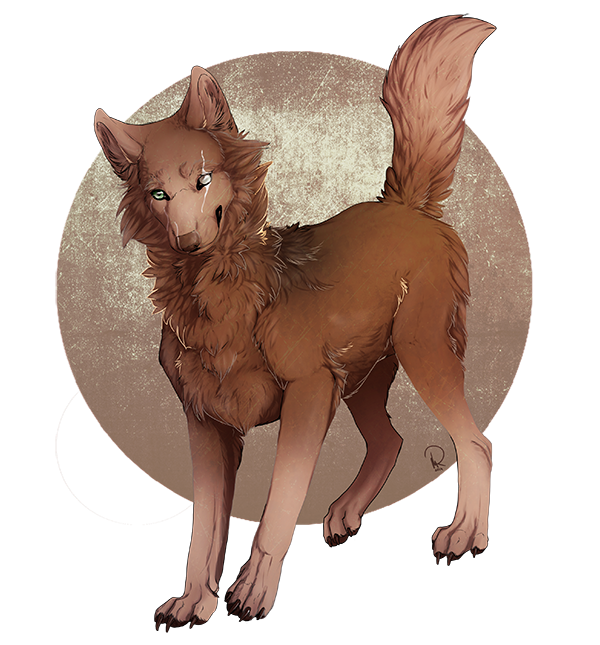 "All around the swampidy swamp, the gator ate the people. The gator said, twas all in fun....SYKE! Imma eat th....HEY!"
A rough stick jabbed at the bloodied body of the alligator, shoving its way into the bites and cuts that tore open its side. Holding the stick, a young, dirty girl was squatting next to the dying creature, its blood dripping from her hands and mouth.
"I'm tryin to sing you a song! HOW DARE YOU DIE WHEN IM SINGING! Oh, well. Your loss."
She licked her lips as her squared human teeth started to elongate, her form shifting from a muddy, naked girl to a lean, rough looking wolf. Though her prey was considered small for a swamp gator, it was large in comparison to her body. With her stunted growth, the little red wolf would have a very full belly after her meal.
With the carcass picked clean, she rolled on her back, humming as she rubbed her belly. Her canine toes curled with satisfaction and she wrapped her tongue around her muzzle, tasting the leftovers of her lunch. With a stretch and a sigh, she rolled over, licking her paws and cleaning her fur. She is naturally red, but the meal had clumped in her thick hair in dark patches that broke up her ginger locks. As she cleaned herself, she continued to sing to herself.
"Twinkle twinkle little lunch, you kind of tasted like a butt. I still ate you, num num num. Your dead cuz your no fun..."
A giggle stretched her mouth, the sound less like a teenager and more like a mad scientist.
"Now, mister Gator. I am so glad you accepted my party invitation. I think it was a splendid party, and if you disagree, I'll just blow you up."
She looked over to the dead alligator, a laugh bellowing from her chest.
"Oops..."
She sat up, the thick coat of fur shortening to show pale, freckled skin underneath. Shifted back to her humaniod form always took longer. Maybe it was because she had so much more fun as a wolf. Standing, she walked over the body, poking it with her foot.
"Yep. You're dead."
She looked down, mulling over a thought to wash her body. Dirt and blood streaked her naked body, her long hair tangled and falling over her face. Meh. She shrugged, heading to a pile of discarded clothing and pulling them on. An oversized black hoodie and loose fitting shorts hung off of her skinny frame. She looked around, spotting an old brassiere.
"AH! There you are Madam Pockenpuss."
Swiping the undergarment up, she slung it over her shoulder.
"I almost forgot! Today is the day you die too! Come Madam Pockenpuss! We must plan your funeral!"
OOC: Open to any who can put up with crazy